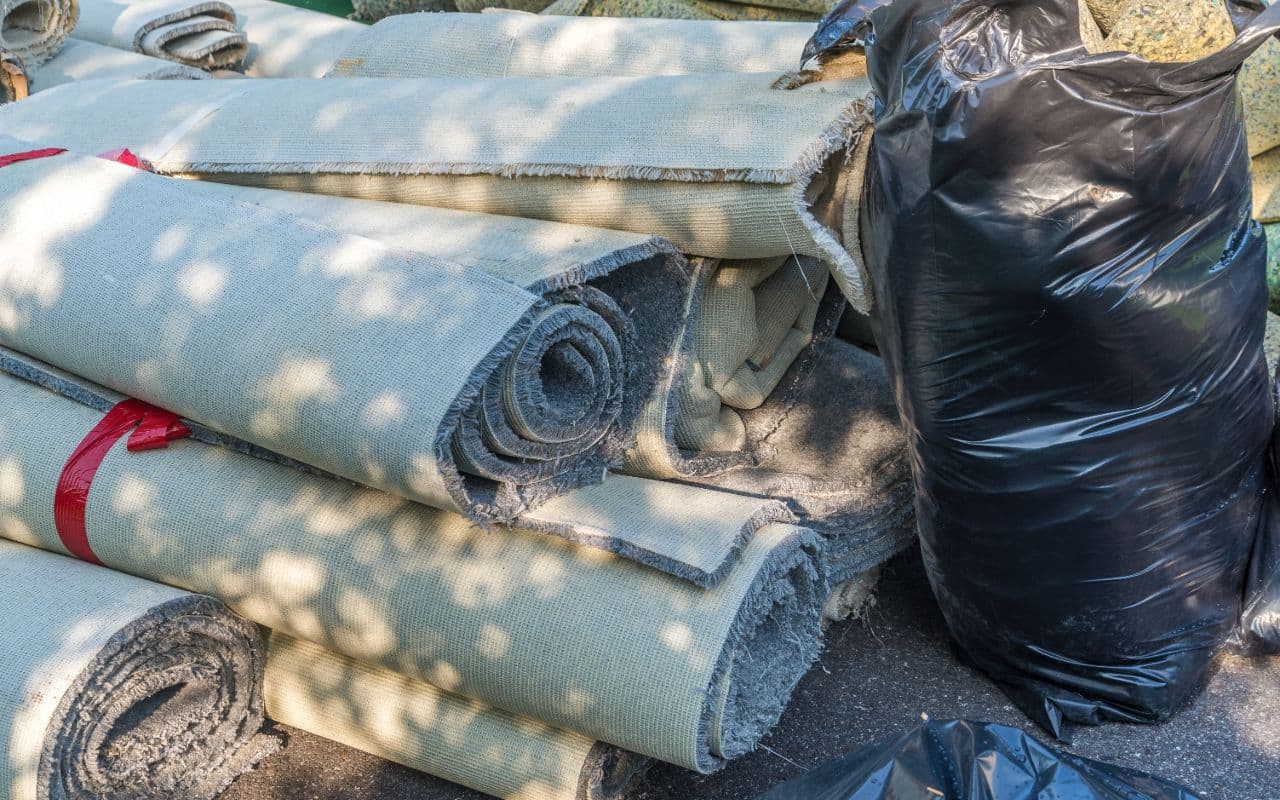 Is renovation underway at home? Or you are updating your living room. It often requires carpet removal. The very thought of removing a bulky carpet is daunting and exhausting.  It is both tedious and equally time-consuming. On top of it, you might not find the best place to dispose it. Can you throw it in the neighborhood just like that? Of course, not! So, what should be the right way forward? Let Action Junk Hauling carpet removal service do the work for you.
Our professional carpet removal service staff can remove the carpet and haul it away safely and efficiently. We pride ourselves on our compliance with environmental norms when it comes to waste disposal. Not many carpet removal companies can say that.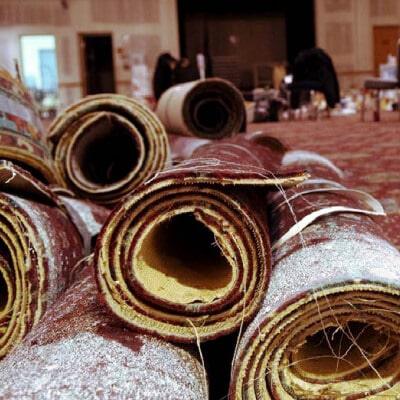 We Remove:
Area Rugs
Throw Rugs
Nylon or Polyester Carpets
Old Carpeting
Stain Resistant Carpeting
Floor Coverings
Wool Carpeting
Tack strips
Loop Carpets
Olefin Carpeting
Carpet padding
Schedule Junk Removal Today
Choose Seattle's top-rated Junk Removal Company – Action Junk Hauling. We're professional, quick, and affordable. Call or schedule online to get started:
Carpet Trash Removal
You are renovating your home and wish to get rid of all things junk, including that old carpet and rugs, which have been an eyesore for quite some time. Now that you are pumping a whiff of freshness to your décor, that aged carpet will tarnish the beautiful setting. So, you will want to get rid of the mess once and for all. But can you simply let the carpet trash sit in landfills?
Green Carpet Removal Service
Facts reveal that landfills are flooded with 5 billion pounds of carpet, which puts a lot of pressure on the environment. Carpets use petroleum-based synthetic fibers and petrochemical polymers and there is a mixture of chemicals and dyes. These are known to emit harmful organic compounds with seriously adverse health effects.
Whether you are renovating your space or relocating to a new place, you wish to get that old carpet hauled away, Action Junk Hauling can assist you. With a well-trained carpet removal team, we are equipped to take care of all your junk hauling needs.  This can help save you from the headache and heartache associated with a do-it-yourself job. Imagine having to rip it up the floor on your own. Surely the thought of doing it yourself can seem like daunting and exhausting. This is where you can trust us. Let our professional staff come to your place and remove the carpet for you. We promise to keep the procedure safe, affordable, and efficient with a promise to maintain our compliance with environmentally safe procedures. This will give you peace of mind that your old carpet did not contribute to the landfills or environment pollution.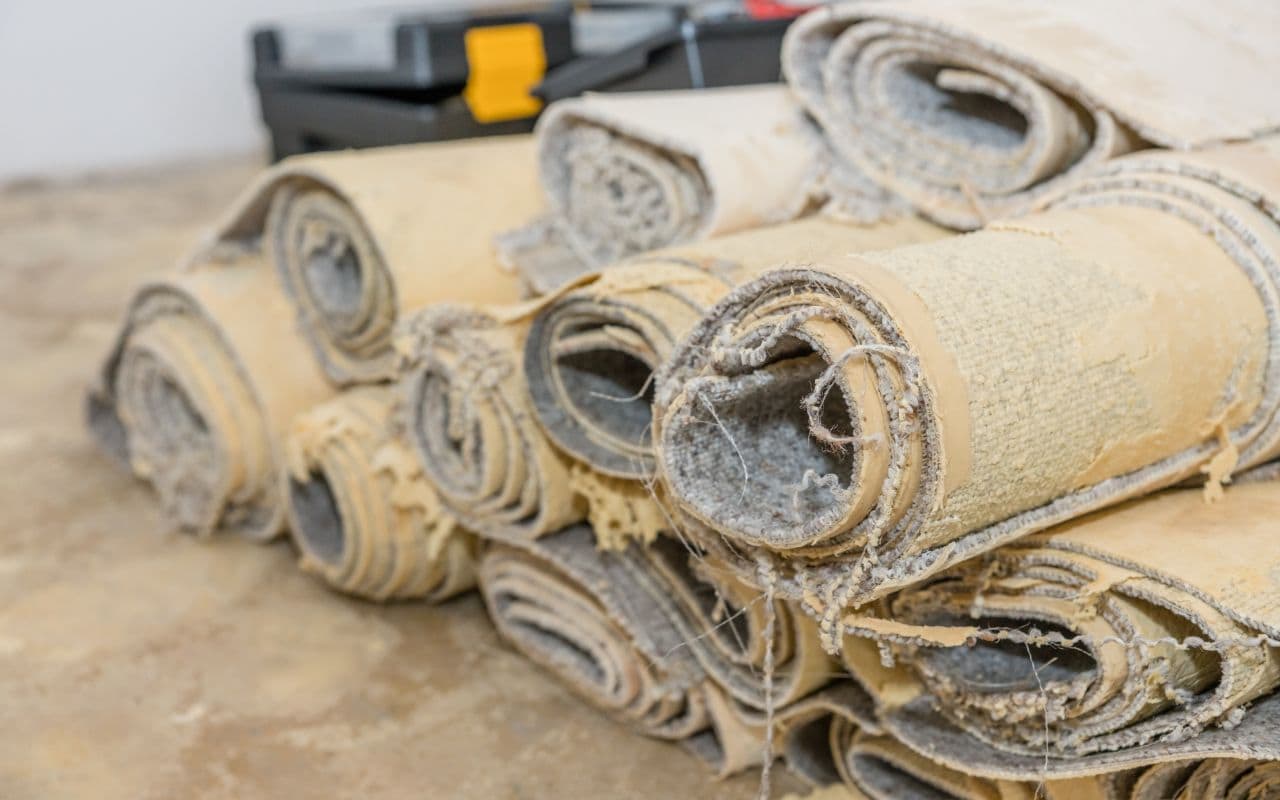 Top-Rated Carpet Removal Service in Seattle
Removing padding and tack strips can be a hassle. But why worry when you can trust experts the job and shun away your worries about the carpet removal from your property.
Our carpet removal service in Seattle is simple. All you need to do is contact us and intimate your concerns regarding carpet removal. Once an appointment is scheduled, one of our professionals will show up at the scheduled place and time. We will give you a free estimate of our carpet removal services. Once you agree with the deal, you will not have to wait any longer to get those items removed from anywhere on your property in Seattle, Mercer Island, Renton, Lynnwood, Bellevue, Kirkland, Burien, Redmond, Shoreline, SeaTac, and Tukwila.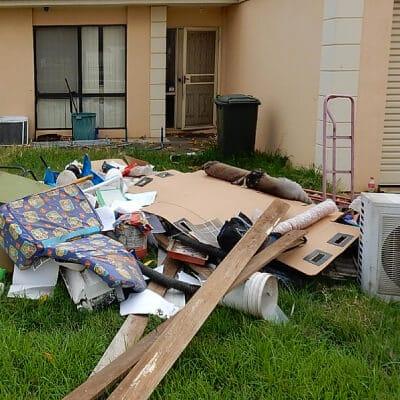 What Is Carpet Removal Pricing?
Ideally, our charges are based on the amount of junk that requires removal. We promise to be fair and transparent in our dealings, with a guarantee that there are no hidden charges in the quote. The price includes labor, disposal fees, and tax.
Benefit from our affordable carpet removal services to get rid of all the unwanted stuff that has been keeping you stressed for long.
We will give you an upfront price for carpet removal.
The Advantages of Using Action Junk Hauling
Our professional junk removal team is trained and equipped to handle bulky, large carpets, so you d not have to move a finger.
From loading the item to hauling it away, we can efficiently do it all, saving you both time and money.
Junk may be kept anywhere on your property, but this is not a hurdle for our efficient carpet removal team. You do not need to bring any item to the curb. We are well-trained to remove junk and any unwanted items from the top floor to the ground.
The junk is carefully hauled from your place to the destination. We take care of every step, right from pick up to disposal.
You can enjoy convenient scheduling with us. You have a 100% satisfaction guarantee with Action Junk Hauling.
A majority of qualifying items are recycled. If an item cannot be recycled, it is donated based on its working condition.
We are an insured junk removal company, which gives you and our staff protection.
We pride ourselves on providing the highest standard of service for responsible disposal and recycling.
We can take care of the mess so you can realize your dream of a renovated, refurbished space.
Whether you plan to update the appearance of your property or plan to replace your damaged carpet due to a tragedy, wear and tear, or any unanticipated incident, we are happy to assist you with the safe removal of carpets of different sizes. Our priority is:
Customer ease and convenience – Quick, efficient carpet removal ensures you can easily begin the process of placing a new carpet.
Environmental sustainability – Disposing less amount of junk in the landfills and recycling many of the items.
Community focused approach – Donating items in working condition to charities and church organizations, where they are needed the most.
Laying down new carpets will add to the aesthetic beauty of your space. But before that, you need to remove the old carpeting. Who better than Action Junk Hauling for the timely and efficient completion of the job?
Connect with us today for carpet removal services in Seattle. We will be happy to be of some help.