Construction Debris Disposal Seattle
You are reconstructing the home of your dreams. But with renovation comes a whole lot of wreckage that must be removed from the site. Debris cleanup is not easy if you plan to do it on your own. Rather, it is complex and dangerous. In order to ensure that the actual construction goes on smoothly, you ought to choose a professional construction debris removal company that can effortlessly clear the clutter, without putting too much financial stress on you.
Action Junk Hauling prides itself on being a leader in debris removal. We efficiently handle the tough stuff while you visualize a clutter-free newly renovated space. If you are looking for someone to do the heavy lifting involved in construction projects, you can depend on our construction debris removal services to quickly get rid of the wreckage.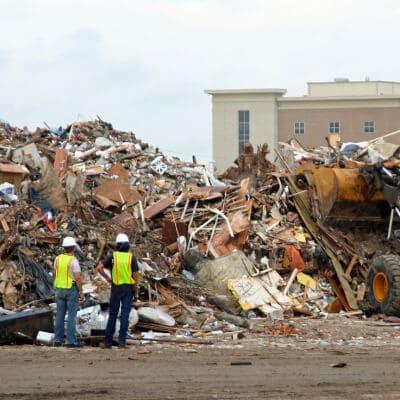 Junk We Take:
Framing
Wood
Metal
Insulation

Dirt

Copper Pipes

PVC
Mobile Home Demolition Debris
Renovation and remodeling debris

Bathroom & Kitchen Tear-out
Schedule Junk Removal Today
Choose Seattle's top-rated Junk Removal Company – Action Junk Hauling. We're professional, quick, and affordable. Call or schedule online to get started:
Need for Construction Debris Removal
Responsible construction waste management is critical to sustainable building. Most construction and demolition waste in the United States is legally destined for disposal in landfills meant for the purpose. However, the unlawful deposition of construction debris on land or in streams can have severe consequences for the environment and human health. It is here that a responsible construction debris removal company can come to your rescue and dispose of the debris at its lawfully designated place.
Action Junk Hauling has earned a reputation as a leader in debris removal for our commitment to the cause of the environment. We happily comply with junk and waste disposal policies, ensuring that huge volumes of construction waste is removed from the client's property and disposed of in the sites meant for the purpose, from where the waste material is sorted for recycling and/or reuse.
Additionally, construction demolition waste significantly inhibits the productivity of work. The job becomes tougher when the debris interferes with the worksite layout. There are all sorts of debris that must be removed from the construction site. Action Junk Hauling is a leading name in the construction debris removal industry. We excel in:
Demolition debris removal and pickup
Construction debris removal and hauling
Wood, drywall, fixtures removal
We believe that our responsibility does not end just at removing the debris, but it is much more than that. We make sure that the construction waste of all types is safely and effectively removed. This includes heavy and sharp construction wreckage. The waste is sorted, loaded, disposed of, and recycled in an environmentally friendly way.
Our mission is to give you a clutter-free space without putting too much strain on the environment by disposing of all the rubbish in an eco-friendly manner. Action Junk Hauling is committed to environmental sustainability and adheres to the principle of green recycling. With us, the rubbish is collected and hauled away for recycling.
When you connect with us for construction debris removal, we will come into action quickly. Our priority is to:
Remove all the demolition debris
Remove the scattered construction material
Collect the rubbish
Dispose of the debris in a safe location
Leave your property clean
Recycle waste
The Environmental Impact
All forms of junk can adversely pollute the environment and make it detrimental to health. Action Junk Hauling cares about the community. The construction or renovation of a property is likely to result in a lot of junk, from concrete slabs to wooden wreckage. While the construction is under way, you might want to get rid of some unwanted stuff, including old appliances, refrigerator, microwave, or yard waste. We are happy to take all at an affordable price, for we believe in serving the community.
Sorting out junk enables us to send recycle-worthy items to recycling units. The items that still have life are donated to church organizations, shelter homes, and thrift stores. Our idea is to ensure that the junk finds the best home.
We make sure all of the old junk and construction debris heads toward the right destination. If it's recyclable, the debris should go to the recycling units. The idea is to add as little waste as possible to the landfills to reduce the detrimental effect of exposing the environment to such non-biodegradable products.
Here are some of the deleterious effects of disposing of waste in landfills:
Greenhouse gas emission – You might be surprised to find that landfills contribute to climate change due to greenhouse gas emissions produced and released. Waste products release methane into the atmosphere, which is one of the major pollutants contributing to global warming. Statistics reveal that methane emissions from landfills contribute 12% to global pollution levels. Disposing of concrete and cement in landfills could severely damage the environment.
Groundwater pollution – during construction or renovation, a lot goes waste. But the waste is not meant for landfills. In fact, toxic cement and metal waste leaches into the soil, air, and water and pollutes the groundwater. Even junk electronics products thrown out in landfills release mercury, lead, and cadmium into the atmosphere, posing a serious threat to air and water quality. This could have an adverse impact on biodiversity.
Given the amount of damage junk can do to the environment and the ecosystem, we make sure construction debris is hauled away safely and that we do not contribute to the ballooning landfill problem and environmental crisis.
We have a team of trained personnel and hauling crews who sort through everything to assess if something can be recycled and/or donated to worthy charities or individuals.
The Construction Debris Removal Specialists
You already know the importance of keeping the worksite free from unneeded stuff and waste material. A cluttered space poses a risk of safety for workers and subcontractors. When there is extra trash lying around, it might result in accidents, posing a risk of injury to workers and damage to the property under renovation or construction.
It might also damage expensive equipment. So it is important to clear the clutter. Action Junk Hauling enjoys the reputation for following an eco-friendly and efficient way to get the construction debris taken care of.
We are happy to haul away your renovation, pool building, landscaping, storm, and construction debris. Connect with us and we will load up everything cluttering up your space, including plywood, wood, tile, cardboard, drywall, insulation, shingles, and PVC piping, among others.
Our Construction Debris Removal Promises
Fast service is a specialty at Action Junk Hauling.
Commitment to customer satisfaction is one of our hallmarks.
Pledge for environmental safety keeps us going.
Affordable demolition removal and junk haul away is our area of expertise.
Punctuality, honesty, integrity, and fair dealings have been the mainstay of our constructional debris removal business.
We pride ourselves on our prompt and efficient service and can send a crew and truck out on the same day. Leverage Action Junk Hauling`s experience in construction debris removal to haul away the cumbersome and dangerous materials. This will save you time and energy to focus on things that matter the most. You do not have to waste valuable time on clearing the clutter and cleaning the grounds.
Our comprehensive demolition debris removal service is just a call away. We come into action as soon as you connect with us and carry out timely arrival on site, offer efficient loading of demolition debris into our trucks, and provide cost-effective hauling away of your unwanted items to designated locations.
Our comprehensive construction waste removal projects are fully insured. You can trust our highly trained staff to get the job done right and in time without requiring constant supervision.
We understand that time is money for a contractor. There are many things for contractors to worry about than junk. We give you the confidence that the task of construction debris removal will be taken care of.
The importance of maintaining a clean worksite cannot be ignored because this reflects on your job profile. A clean worksite impresses building inspectors and neighbors, who can hire your services for their construction work.
When you break a wall for reconstruction or overhaul the kitchen or bathroom, there is a whole lot of mess to be taken care of, from broken tiles and counters to damaged cabinets, spoiled materials, carpet, and expendable construction material. The need of the hour is to invest in construction debris removal services to remove the trash and clear up the clutter. Everything that can be beneficially reused and repurposed is sent for recycling while the useless waste is dumped at a safe location.
Some materials, such as doors and windows, may be reused. These might be a good substitute for new furniture. Materials that cannot be effectively eliminated or reused are collected and disposed of at solid waste landfills at the lowest cost.
Demolition debris often hazardous waste that cannot be disposed of at any site other than the place designated for such trash.
Whether you need debris removal services daily, weekly or fortnightly, we are here for you. We can remove the demolition debris at a convenient time and cost for you. Call us today at xxxxxx to enjoy fast, efficient, and great customer service for demolition debris removal and junk hauling.
Construction Debris Removal FAQs
Here are some of the commonest questions about construction debris removal, and their answers – from your go-to junk removal company in Seattle.
What is construction junk removal?
As the name implies, it's junk removal for construction debris. If you're building your home or office, doing repairs or renovating, there'll be a fair amount of construction debris that you'll need to be removed. This service takes care of that.
What construction items do you take? 
We take wood, metal, concrete, framing, copper pipes, mixed materials, broken concrete, and practically all other construction debris. Contact us if you have any questions.
Who is construction junk removal for?
This service is for businesses or homeoperators who are doing construction or repair, fixing water or fire damage, renovating, and construction companies who need it frequently. This service is useful for companies (or individuals) working on a tight schedule, or trying to make up for the lost time.
When can I get construction junk removal?
You can hire us any day throughout the year. Most of the time, we're able to provide same-day service. We also offer recurring schedules for companies that need our services frequently. Contracts are available.
Where do you offer construction junk removal?
We have a wide service area, spanning from Tacoma to Marysville. Scroll to the footer on our website for a full list.
How much is construction junk removal?
Our standard rates: minimum $55, going up to $475 for a full truckload. You can learn more here, or call us for an instant quote.
Why get construction junk removal?
It cuts down the time needed in the construction (or renovation) process and eliminates a difficult task from your workload. Junk removal is necessary during construction, and if you don't know how to do it properly, you could complicate matters or cause harm to the environment. Hire us for a convenient solution that is as eco-friendly as possible.