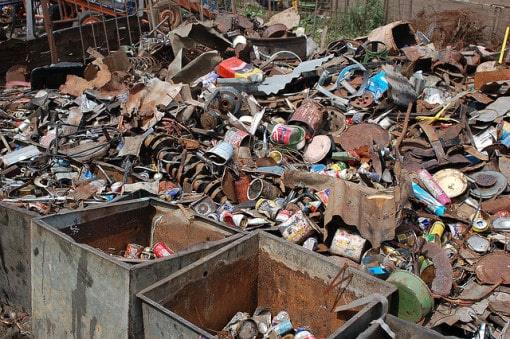 We all know about the importance of recycling glass, cans, plastic, and paper, but an often overlooked form of recycling is scrap metal recycling. By recycling metals, we reduce the amount of ore mining throughout the world. Recyclable metals include copper, steel, aluminum, brass, and iron.
Best Scrap Metal Items
Another benefit of scrap metal recycling is the extra cash that is associated with it. Each metal has its own value, so focusing on the right metals can make your scrap metal recycling efforts more profitable. Below are the best scrap metal items for profit.
#2 Copper Tubing
Aluminum Cans
Aluminum Car/Truck Rims
Aluminum Siding
Aluminum/Copper Radiators (From air conditioners)
Appliances
Beans
Car Batteries
Cast Aluminum
Cast Iron – Such as a skillet
Copper Scrap
Electric Motors
Etc.
Insulated Copper Wire
Lead
Light Iron
Microwave
Plumbing Brass
Range/Oven
Refrigerator
Scrap Cars
Sealed Units
Sheet Aluminum
Soda
Stainless Steel (Non-Magnetic)
Transformers
Washer/Dryer
This was a pretty comprehensive list of scrap metal items, and knowing the different types of scrap aluminum and other metals can help you make more money.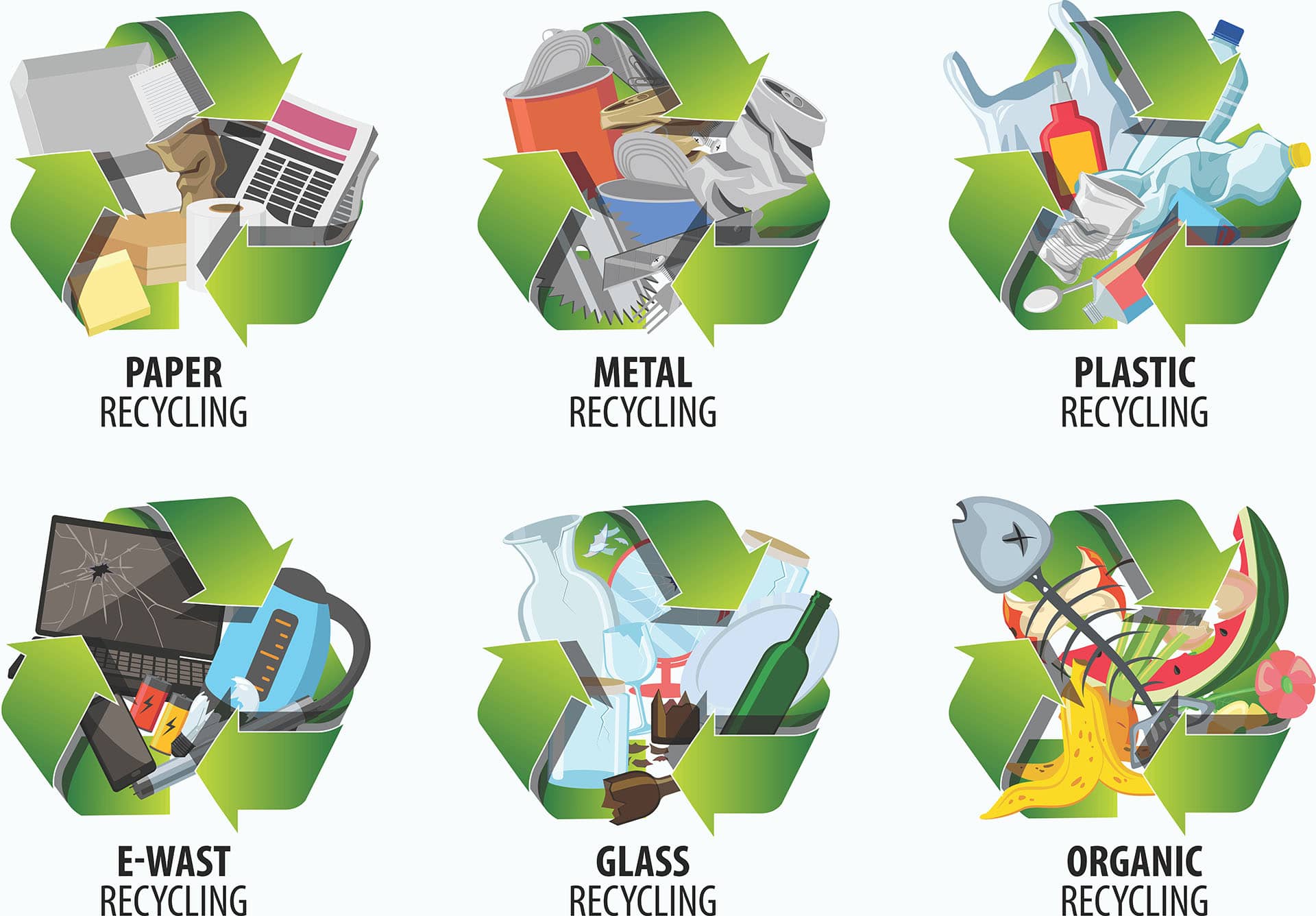 We Handle Scrap Metal Recycling Near You
Scrap the pain of hauling your extra metal. Action Junk Hauling offers scrap metal pick up for both your home and business. We are fully insured, do all the heavy lifting, and recycle when possible to save your back, your time, and your peace of mind.
Metal recycling services we offer
Aluminum Recycling
Brass recycling
Cast iron recycling
Copper recycling
Steel recycling
Tin recycling
Lead recycling
Zinc recycling
Nickel recycling
Scrap Metals That Can't Be Recycled?
Not all scrap metal around your home can be recycled. Some of these metals include:
Lead, found in cathode ray tubes in old TVs
Radioactive metals like Plutonium and uranium
Mercury, often found in fluorescent light tubes
Motor oil and paint cans
Pots and pans
Propane gas tanks
Certain car parts
These metals are often treated with harmful chemicals. These harmful chemicals can cause damage to the soil and the air once broken down.
Dirty Aluminum vs Clean Aluminum
If the aluminum is attached to nearly anything else that isn't pure aluminum, then it is considered 'dirty aluminum.' Dirty aluminum gets a much lower price than 'clean aluminum.' Make sure to remove any rubber, steel, or any non-aluminum material.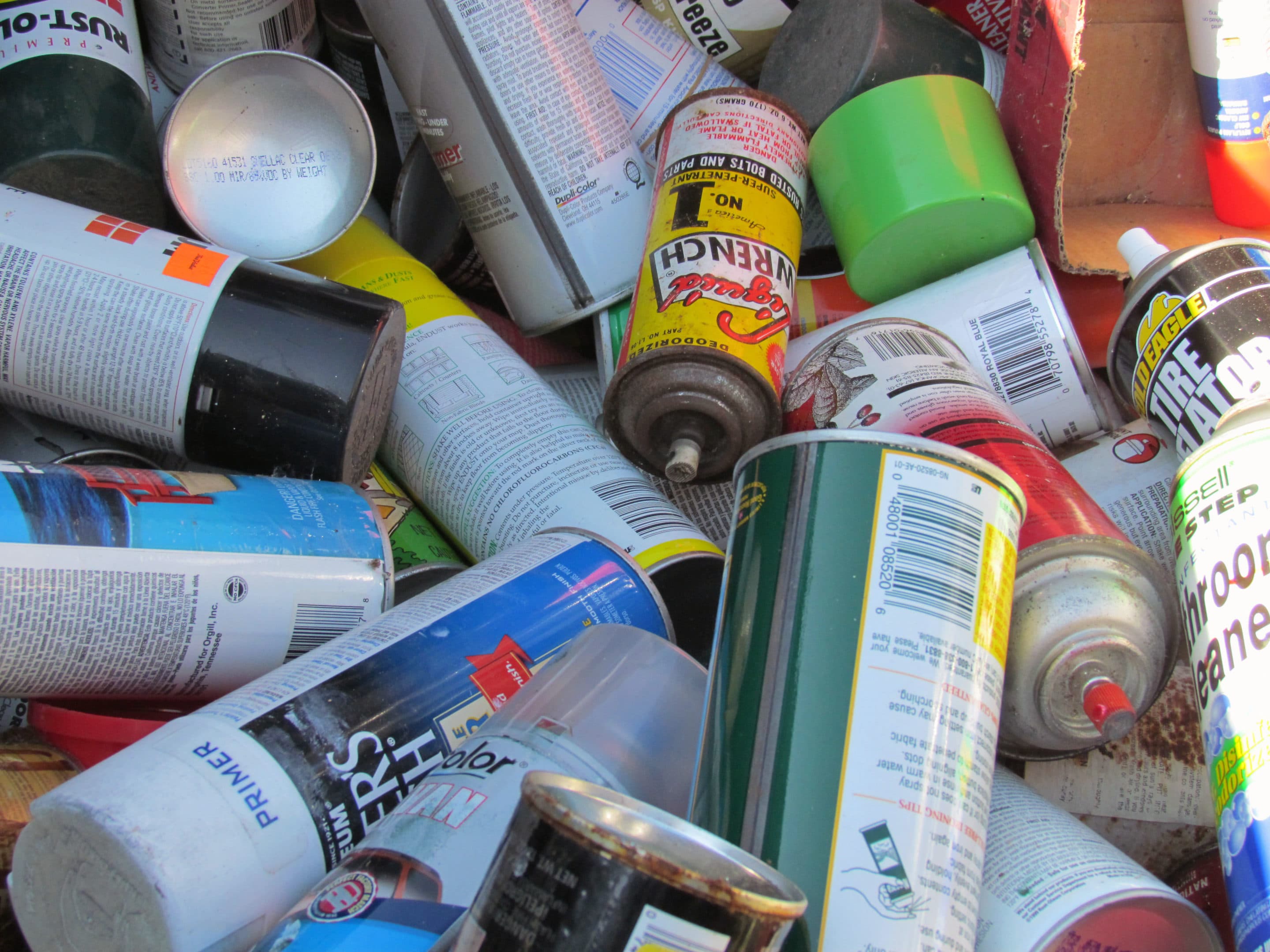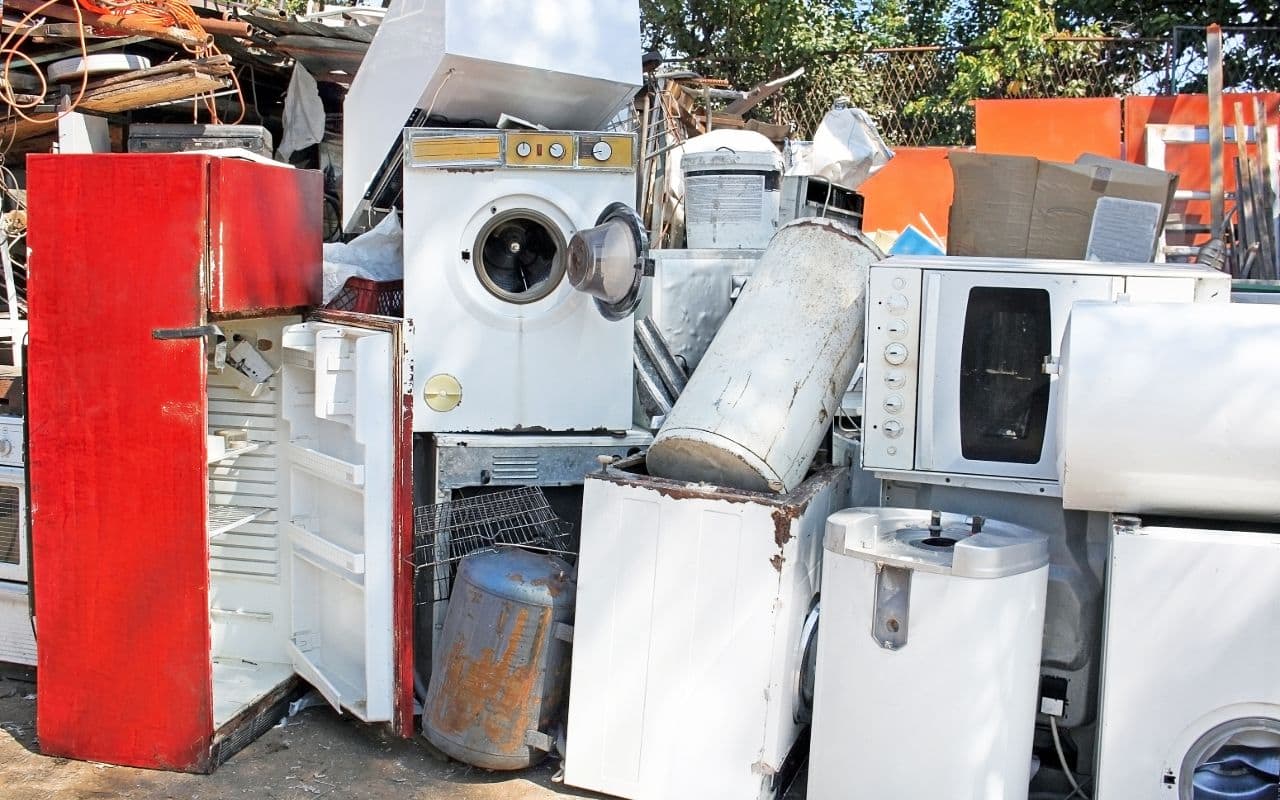 Does Anyone Pick Up Scrap Metal for Free
People do pick up scrap metal for free. These people scrap metal haulers typically make their living driving around and offering to pick up metal for free. The bet on the fact that the amount that they will earn from the metal is worth more than the fuel and time that they use to gather the metal.
You never know what these people do with the metal, however. Oftentimes they will remove what isn't separated or sorted to make room for other metals that they find. Unfortunately, they typically dump this metal where it is convenient for them.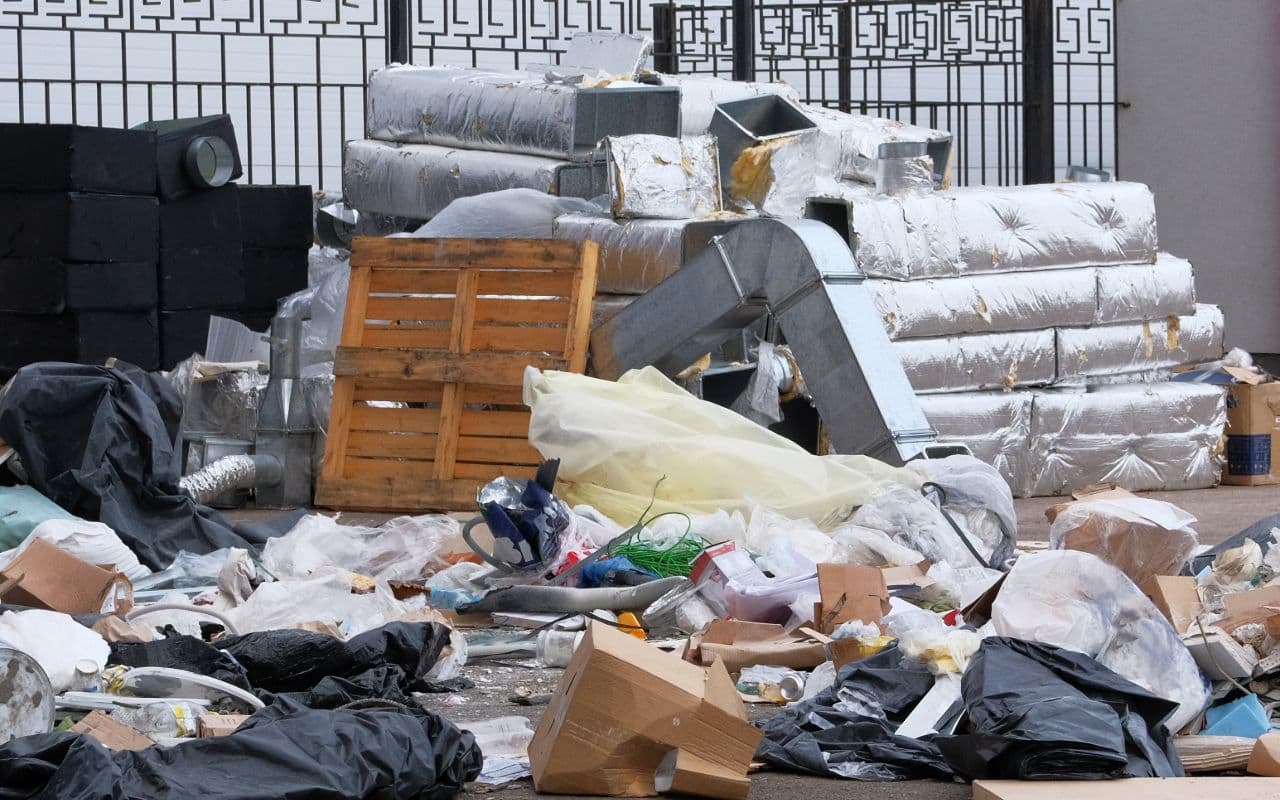 Metal Recycling
Metal recycling companies make their money by selling the metal. That means that they will not always offer you top dollar for it. You will want to see who offers the best prices for scrap metal before choosing a scrap metal recycling company. The amount you earn also depends on the market price. Some years metal is not worth much, and finding a company to come pick up the metal is nearly impossible. When metal prices are down, it is not unusual for companies to charge you for taking your metal.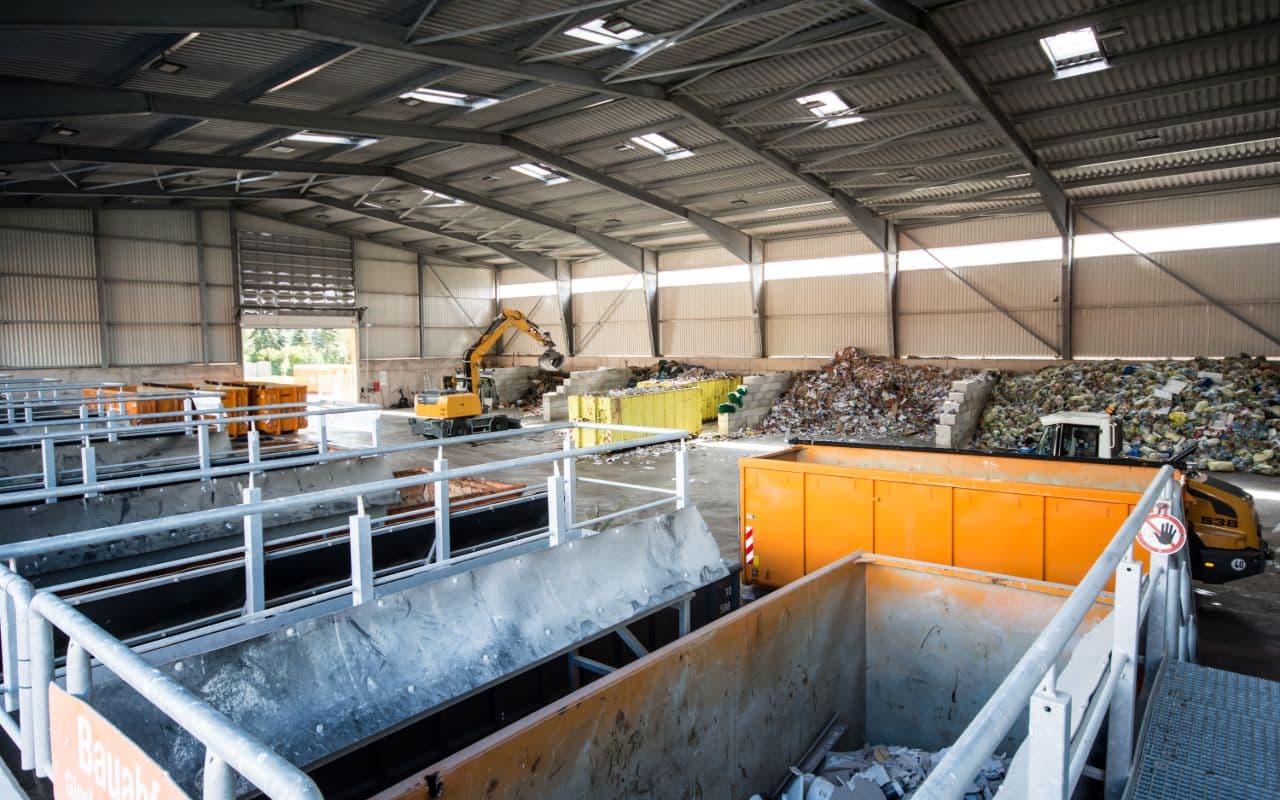 Metal Recycling Process
The metal recycling process involves
Collecting the metals
Processing them
Shredding them
Melting them in furnaces at high temperatures to produce blocks or sheets to be sold to manufacturers of metal products
There is definitely a need for scrap recycling.
Recycling Metal Facts
In 2015, the scrap recycling industry in the United States transformed more than 130 million metric tons of materials into raw material commodities, according to the Institute of Scrap Industries, Inc. More than half of this was steel, iron, and nonferrous metals like aluminum, copper, and lead. Using these secondary materials instead of virgin materials saves energy and reduces greenhouse gas emissions.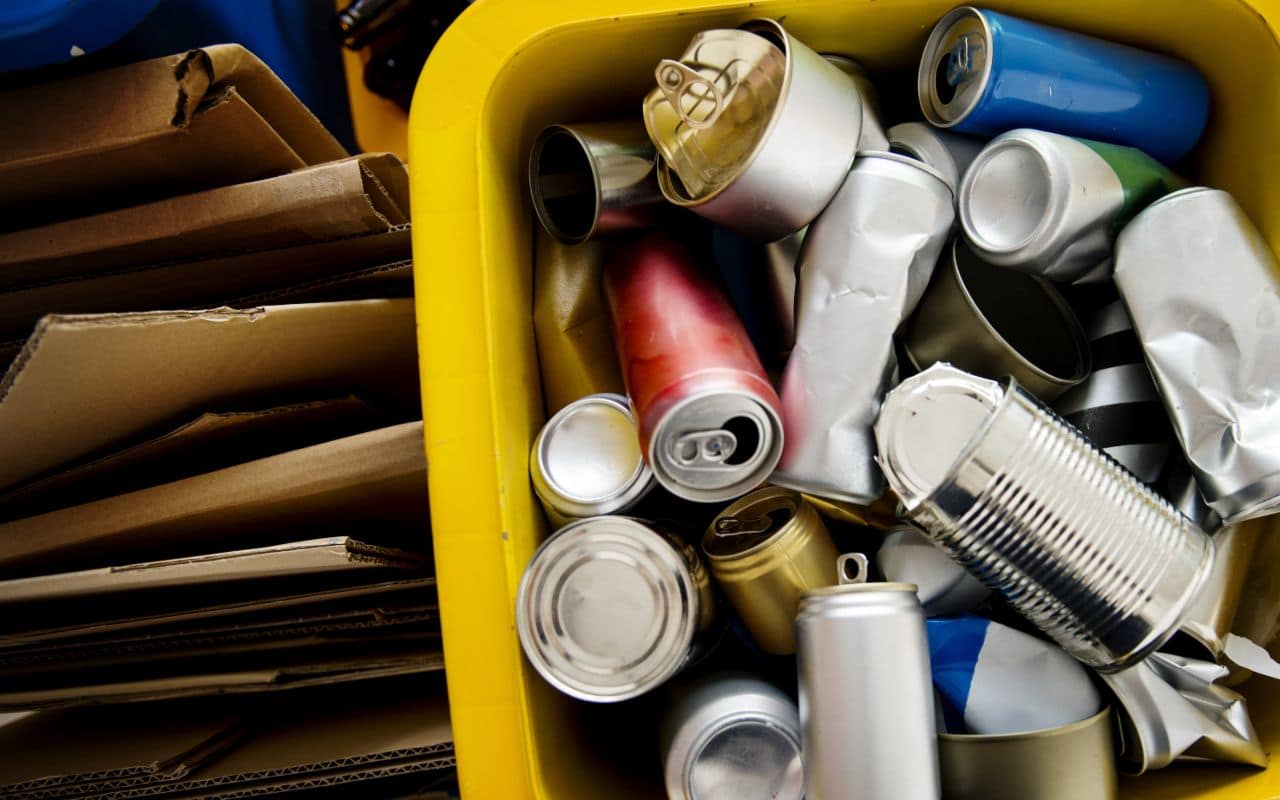 Aluminum
Recycling cans saves up to 95% of the energy it takes to make both aluminium and steel from raw materials. Making aluminum cans from recycled metal is 20 times more energy efficient than using 'primary' metal. Recycling seven cans saves enough energy to power a 60-watt light bulb for 26 hours. It can take as little as 2 months for an aluminum can to be recycled and returned to your shelf in another form.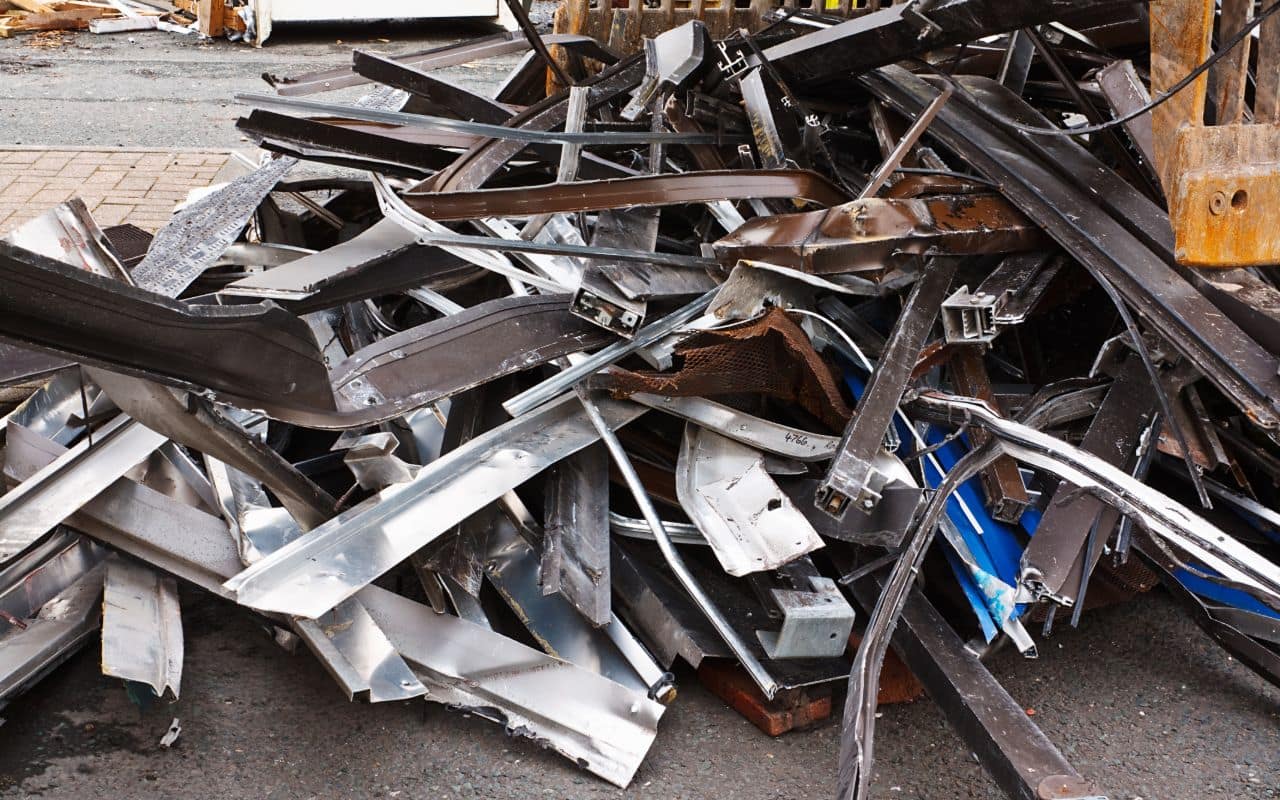 Steel
Steel is the most recycled material in North America. It comes from cans, construction scraps, and cars. Just like glass is able to be reused 100%, steel can be turned right back into steel used for exactly the same things.
The table below shows the percentage of metal that reaches a municipal solid waste that is recycled. For more information, check out the EPA's facts and figures page.
| | | | | | | |
| --- | --- | --- | --- | --- | --- | --- |
| | 1970 | 1980 | 1990 | 2000 | 2014 | 2015 |
| Paper & paperboard | 15% | 21% | 28% | 43% | 65% | 67% |
| Glass | 1% | 5% | 20% | 23% | 26% | 26% |
| Metals | 4% | 8% | 24% | 35% | 35% | 34% |
| Plastics | Negative | <1% | 2% | 6% | 10% | 9% |
| Yard  | Negative | Negative | 12% | 52% | 61% | 61% |
| Electronics | | | | 10% | 42% | 40% |
| Lead-acid batteries | 76% | 70% | 97% | 99% | 99% | 99% |
Scrap Car Removal
Although cars have lots of metal, it is often not worth the effort to get it to a scrap metal recycling center. Many companies offer pick up for junk cars, and some will even pay you up to $200 for your car.
If you're looking for removal of your scrap car, give us a call and we can help you.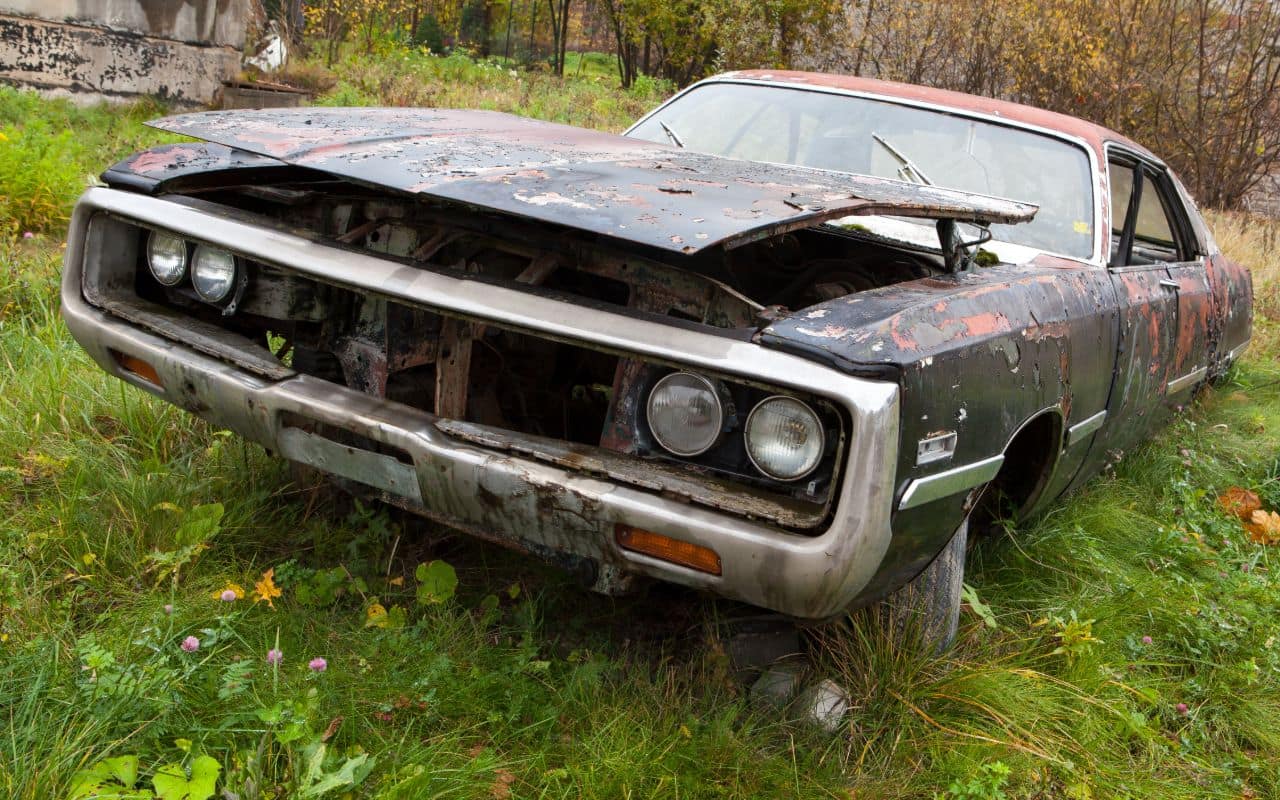 Scrap Metal Classification
Did you know that not all scrap metal is created equal? There are numerous types of metal, hundreds or thousands when you get down to the nitty-gritty classifications. When you know the types of scrap metal you are dealing with, it's easier to know what you can and can't do with it, where it's commonly found, and what the value is.
Here are the different scrap metal classifications.
Ferrous metals – Ferrous metals are the most common type of recycled metals. All ferrous metal is magnetic. Ferrous metal is iron or steel or at least contains it. Types of ferrous scrap metal include refrigerators, ovens, cars, cast iron skillets, and more.
Non-ferrous metals – Non-ferrous metals don't contain iron so they aren't magnetic. They are more resistant to corrosion and rust. They're malleable and lightweight. These metals are commonly used in construction and building applications such as gutters, roofing, pipes, and electrical. Metals that are non-ferrous: brass, gold, nickel, tin, lead, and zinc. Common properties of non-ferrous metals are that. These properties make them especially ideal for the construction of aircraft.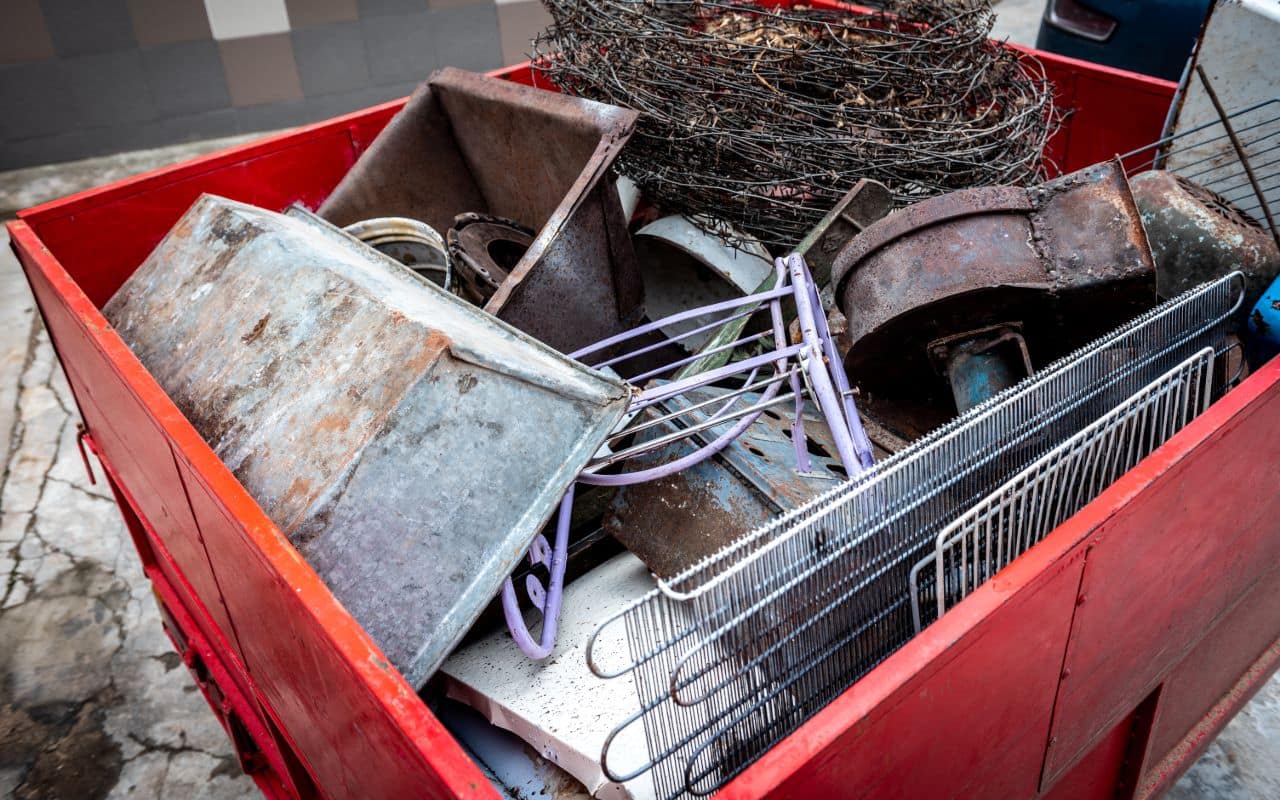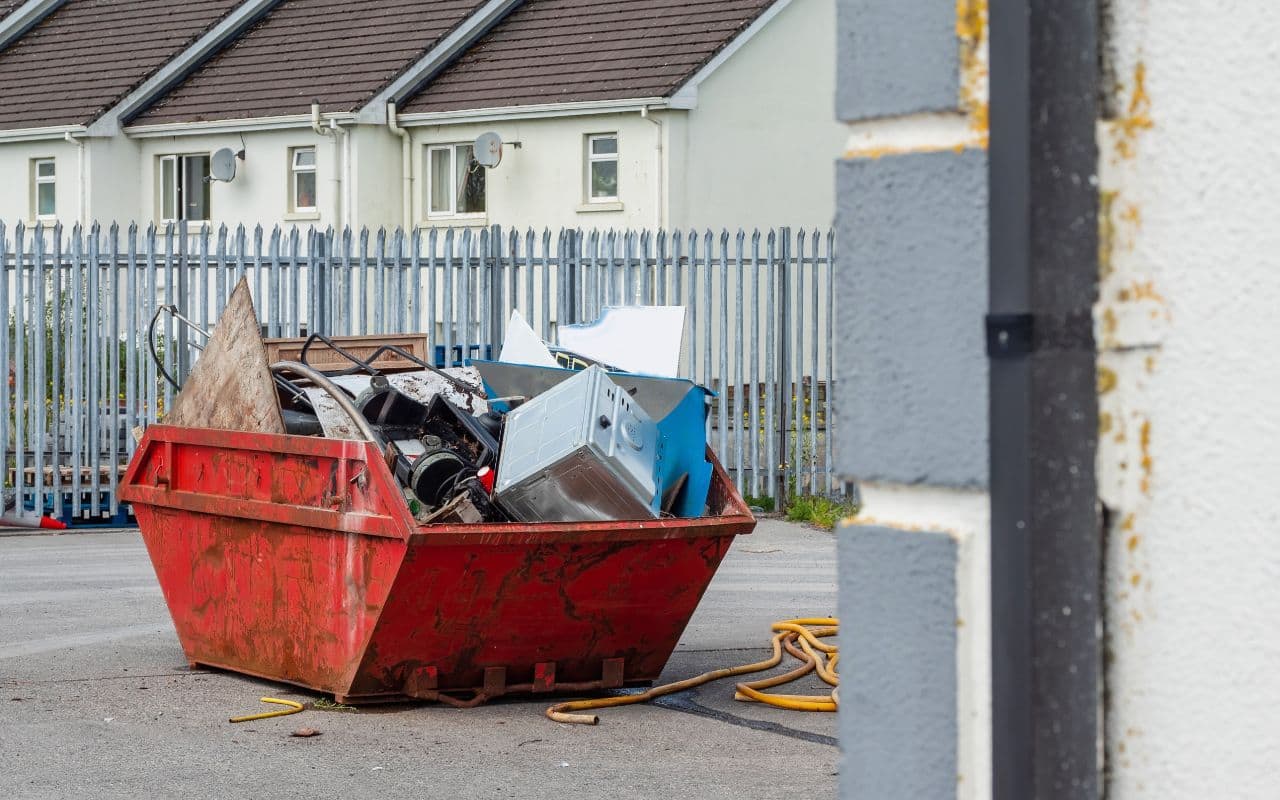 Why Hire A Company To Pick Up Scrap Metal
If you're searching "scrap metal pick up seattle" or "scrap metal recycling yards near me" then you're probably looking for a place to take your scrap metal in the Seattle area or you're looking for a company to come pick up your scrap metal from your home or place of business.
Action Junk Hauling hauls away junk scrap metal from residential and commercial properties. Choosing a company to come pick up your scrap metal is for anyone who does not want to separate the metal, take the metal to the scrap yard, or does not have the means to take the scrap metal to the recycling center.
FAQs
Can I put metal in the recycle bin?
No. Do not put metal outside of common food containers in the recycling bin. For more on what can go into the recycling bin, check out our Guide to Seattle Recycling & our article on How to Recycle Junk in Seattle.
How does scrap metal recycling work?
The metal recycling process involves
Collecting the metals
Processing them
Shredding them
Melting them in furnaces at high temperatures to produce blocks or sheets to be sold to manufacturers of metal products
There is definitely a need for scrap recycling.
What is the current price of scrap?
https://iscrapapp.com/prices/ has up to date prices for nearly all types of metal around the US.
Who picks up scrap metal?
Action Junk Hauling Seattle picks up scrap metal from Marysville to Tacoma.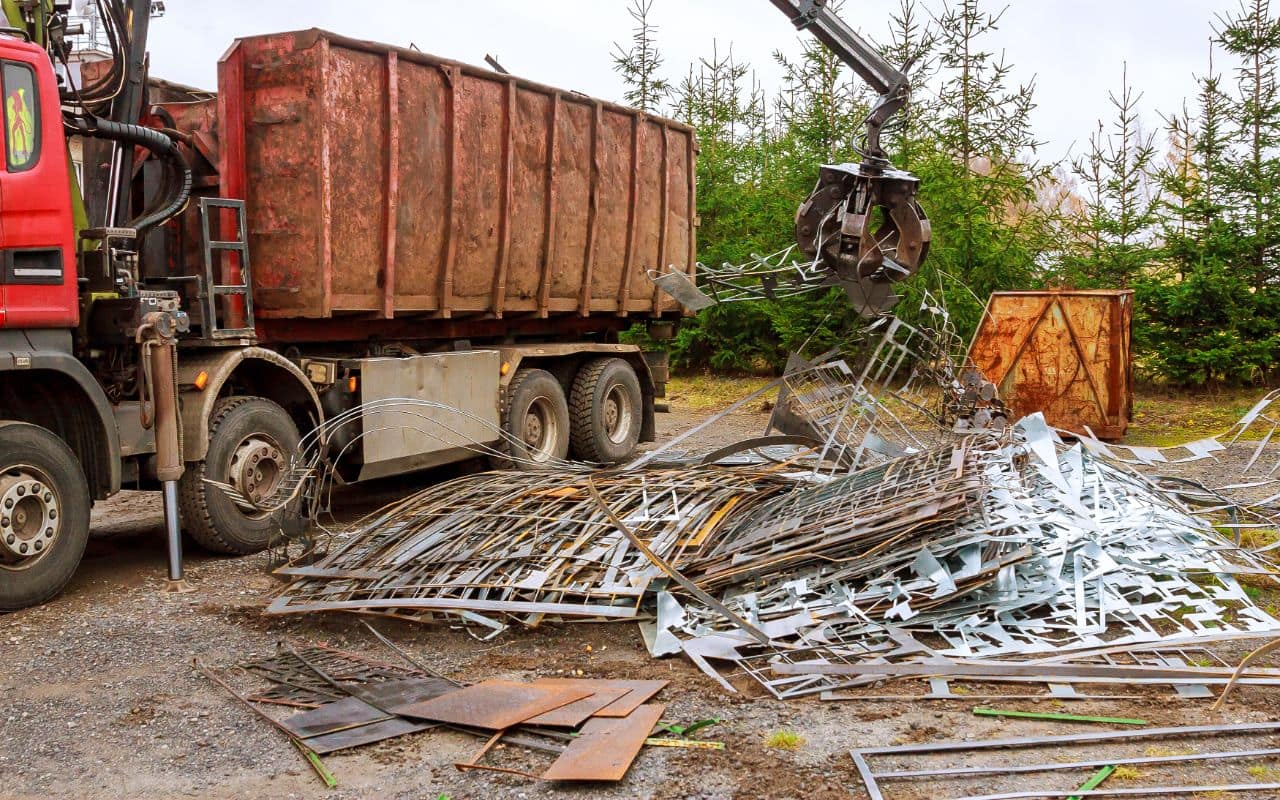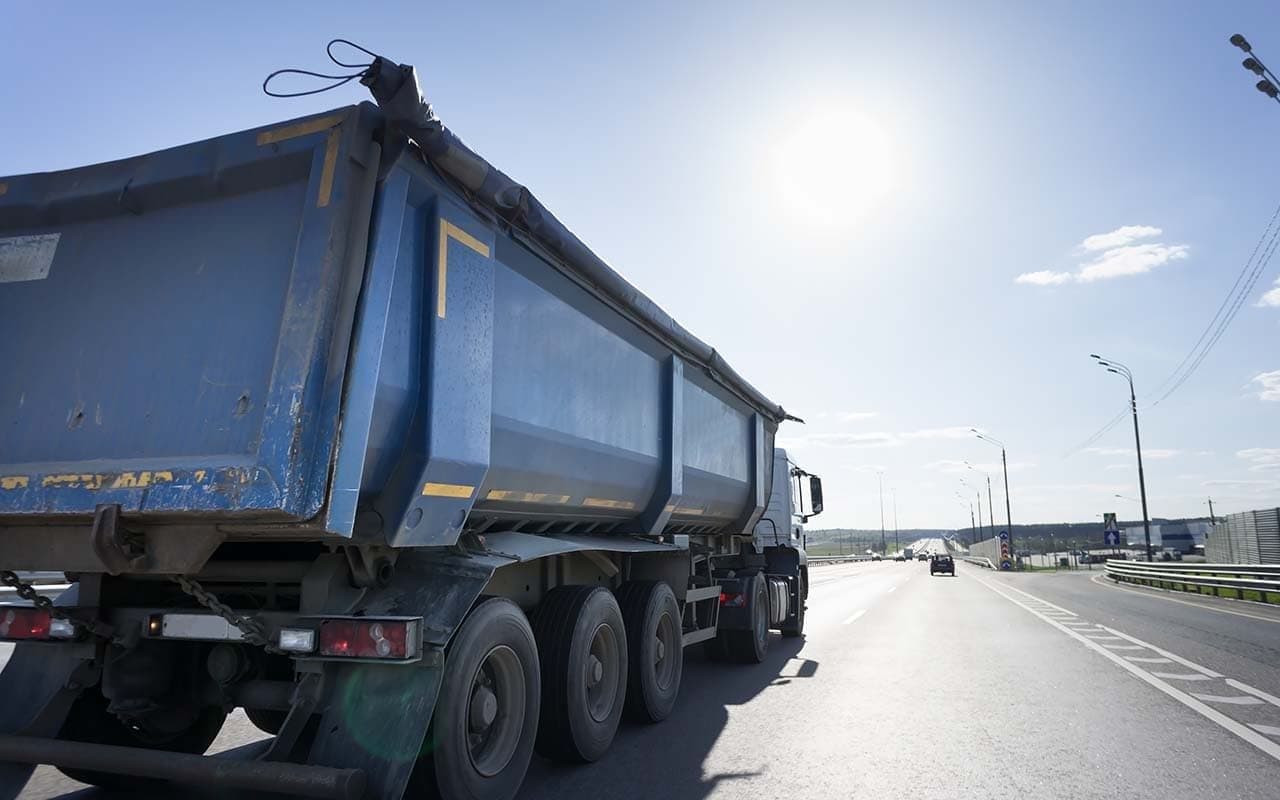 No Time? No Problem!
If you need cleanup services or need to get rid of a bulky item such as an old stove, contact Action Junk Hauling for an easy solution. No need to waste time researching, or to haul and lift heavy appliances. Just tell us what you need done and when would be a convenient time, and we'll take care of the rest.
Our services are efficient, affordable and reliable. We're an environmentally conscious company, and we'll make sure your recyclables are taken to the right place and the rest is disposed of in a responsible manner. For more info on what we take and what services we offer, check out our website.
Recycling Guide
Can you recycle old carpet? Where do you take old brick and concrete? Is it worth hiring a company to throw out demolished construction materials? Get answers and decide for yourself
Looking for Professional Seattle Junk Removal?
Allow Action Junk Hauling Pros to clean up the mess.
Get started with a free same-day estimate. From there, we'll schedule a pick-up time at your earliest convenience, collect your junk, and dispose of it responsibly.
We look forward to working with you!