You love your old bike, but it is no longer in use and has taken up unnecessary space. Since it was one of your favorites, you do not want it to become an eyesore, right? So what better way to get rid of it than to go for bike disposal in Seattle? Perhaps you have a large collection of old bikes that you want to remove to free up space. Action Junk Hauling offers bicycle removal Seattle and can help you get rid of the junk. As a fully insured and licensed bicycle disposal company, we can pick up your old stuff and de-clutter the area.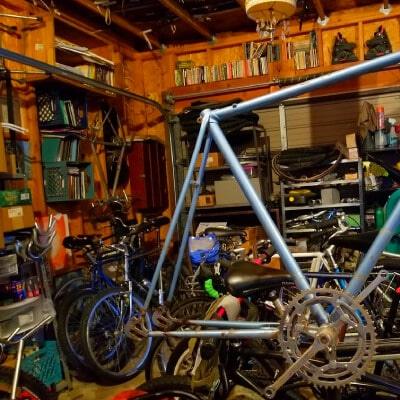 We Take:
Mountain bikes
Kids bikes
Hybrid bikes
Comfort bicycles
Commuting bikes
Triathlon bikes
Plastic or metal frames
BMX/trick bikes
Tandem bikes
Fixed gear bikes
Adult tricycles
Cyclocross bikes
Cruising bikes
Folding or compact bicycle
Schedule Junk Removal Today
Choose Seattle's top-rated Junk Removal Company – Action Junk Hauling. We're professional, quick, and affordable. Call or schedule online to get started:
We Take It All
Whether yours is a mountain bike, beach cruiser, low rider, BMX, tricycle, or dirt bike, we are happy to haul it away. Even if it is a broken, unused bicycle that has been unnecessarily sitting in your garage for a long time without use or an old unicycle that has become stationery, we will be happy to take it away. As experts in junk removal in Seattle, we can effortlessly handle your bicycle disposal needs and take that bike out of your way.
Let us come to you to evaluate the junk and sort it out depending on usability. We will also decide whether it is worth donating or recycling an old bike. Anything that cannot be reused is sent for processing and recycling. What's the fun in recycling an item that can be donated easily?
Why send a bike to the landfills when it can be recycled and repurposed? It's our commitment to the cause of the environment that helps us stay dedicated to safe waste disposal.
 We are proud that we send 80% of the junk for recycling. This means when you hire Action Junk Hauling, you have the guarantee that 60-80% of your trash will stay out of landfills.
Any hazardous material in the junk is separated to prevent toxins and chemicals from entering the environment. We believe in safe junk removal, and bike disposal tops the list too.  Any junk that cannot be reused is sent for safe disposal in accordance with the applicable regulations.
Let us pick that abandoned bicycle in your home and haul it away to its ultimate destination.
Bike Disposal & Rubbish Clearance Experts
Whether that old bike has been staring at you for a while since kids moved out of the house or your beach cruiser has been taking up too much space in the yard, you ought to get rid of the clutter. A clutter-free house looks neater and more inviting. Now that you have decided to dispose of your old favorite, the next challenge is to find a safe disposal site for the same. Do you plan to do it yourself? But are you aware of the rules and regulations governing waste disposal? Perhaps there is more to junk removal than merely dumping the waste in the neighborhood.
It is illegal to dispose of bicycles just about anywhere. Remember, unsightly bikes in your yard could invite a removal notice.
If you don't know how to get rid of that dirt bike, Action Junk Hauling can help. Our professional junk removers are happy to pick up and haul away junk bikes and other forms of trash. We are pleased to offer low priced bike removal in Seattle, which is affordable and does not blow a hole in your pocket.
In addition to bike removal in Seattle, you can seek our services to pick up old scooters, trailers, stationery exercise bikes, mountain bicycle, and climbing frames, among other types of rubbish that you want to get rid of along with your old bicycle. We can easily arrange convenient waste disposal services under one roof, so you do not have to go elsewhere for different forms of junk hauling.
We're a professional junk removal local business serving Seattle.
We offer efficient, cost-effective, and prompt bike disposal services.
We provide no-obligation free estimates on bike removal in Seattle.
We are quick to come to action as soon as the deal is sealed.
We arrive on time and as per your convenient schedule.
With Action Junk Hauling, you have the guarantee that the bike disposal task is complete only after we have cleaned up the site after the rusty bicycle has been removed. Let's sweep clean the area once the bicycle or exercise bike is picked. Our services related to bike removal in Seattle are designed to offer you ultimate satisfaction.
The Advantage of Hiring Action Junk Hauling for Bike Removal Seattle
Accessible by phone, our team is equipped with the right tools and equipment to remove that rusty bike from your yard. Whether you are moving, renting out, or cleaning up your property, you want to remove junk for a clutter-free space. With Action Junk Hauling, trash and bike disposal is made easy. We take all types of bicycles and parts, so they do not end up in landfills or a trash heap:
Riding bikes is fun and you have always enjoyed the activity. But now that your bike is catching rust, it is best to get rid of it and buy a new one.
Bikes do not fit in the trash. When a bike disposal in Seattle is required, trust only the experts. Let Action Junk Hauling remove the junk bicycle from your property so you can replace it with a new one. If your old bicycle holds some sentimental value, you can donate it to someone who sees it as a treasure and can take care of it just like you did.  In case the broken bike is not worthy of donation, we opt for recycling and salvage parts that can be reused and repurposed.
Connect with Action Junk Hauling at xxxxxx for bike disposal in Seattle.