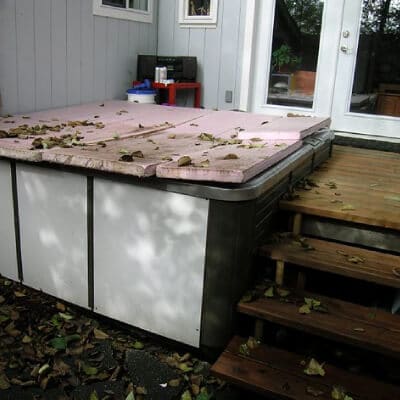 Need to get rid of that outdated hot tub? Action Junk Hauling can help! Our professionals will take care of the old tub so you don't have to worry. Hot tubs can become damaged over time or too small for you and your family, but with our junk removal services, you won't need to worry about finding a way to remove it yourself. Say goodbye to that past-its-prime hot tub – call Action Junk Hauling today!
Professional Pool, Spa, and Hot Tub Removal Services in Bellevue
No more headaches over that old hot tub taking up space in your backyard. Get reliable, efficient and cost-effective hot tub removal service from our professionals.
Allow us to take care of the heavy lifting and you can quickly move on to installing new amenities or reclaiming the area for your outdoor activities. Reach out to us today for more information about our hot tub removal services.
Why You Need Professional Help to Remove Hot Tubs
Weighing hundreds of pounds, hot tubs can be a challenge to remove. Without proper care and caution, attempting removal can have disastrous consequences – resulting in damage to the hot tub, adjacent areas and injury to those involved. That's why it's best to leave it to the experts.
Our hot tub removal team, backed by top-grade tools and equipment, ensures the job is done safely and efficiently. Our team is highly trained and experienced in following all safety protocols, providing a worry-free experience.
Schedule Junk Removal Today
Choose Seattle's top-rated Junk Removal Company – Action Junk Hauling. We're professional, quick, and affordable. Call or schedule online to get started:
Our Hot Tub Removal Process
Our experienced crew uses specialized tools to tackle the job from start to finish. Our professional team has the expertise to properly dismantle, load, and haul away your hot tub — a task that often requires far more time and effort than a typical furniture removal job.
Can You Dispose A Hot Tub Yourself?
Removing hot tubs or spas is not a DIY project. These bulky items require special care during their removal, as they cannot easily be moved by one person and are usually not allowed to be discarded in local waste facilities.
Preparing for Hot Tub Removal
To make the process of hot tub removal easier, there are a few key steps you'll need to follow. Disconnect the power supply, drain all of the water from the tub, and disassemble the various parts like pumps, heaters, power and plumbing.
Make sure to pack the hot tub's accessories separately, then clear a path wide enough for removal. When this is done, our professionals will safely turn the tub over and use special equipment to move it into our clean trucks.
Removing a hot tub isn't a job for just one person. Let us handle it for you – simply point and your junk will disappear!
How Hard is It to Disassemble a Hot Tub?
Disassembling a hot tub can be a challenging process, as it requires specialized tools and knowledge. However, with the right equipment and expertise, it is possible to safely and effectively disassemble a hot tub.
If you are looking for help with this task, please reach out to our team of experienced junk removers. We have the necessary tools and expertise to ensure that your hot tub is safely and efficiently disassembled.
Serving Bellevue and Surrounding Areas
Action Junk provides reliable hot tub pick-up, removal and eco-friendly disposal services across the Greater Seattle Area, including Bellevue.